Home
->
Characters
->
Derek Penner
Derek Penner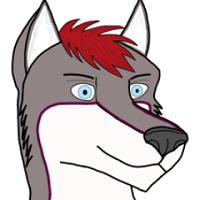 A Size shifting Sioux Indian wolf. His base height is 7'6'' with a 15 inch cock. He can grow himself or shrink others either with a set of indigenous chants or using ray guns.
He is the Crown Prince of the Anthro Kingdom, a vast furry empire stretching across much of the Americas. While waiting for his promotion to King so he can achieve worldwide Furry domination, he spends much of his time playing hockey for the Fur City Royals of the Anthro Hockey League. He is their team captain and leading goal scorer, a power forward who won't hesitate to drop the mitts and lay a beating on any opponent who dares to provoke him. He is also a commander in the Macro Marines, an elite force of the Royal Furry Marines dedicated to mercilessly crushing homophobes, anti-furry terrorists, or just humans in general under their massive boots.
As a Native Wolf, the love for nature is in his blood. He often retreats to a secluded forest to rest and take in the refreshing sights, sounds, and smells. Such is his love for nature that there is a forest in the back yard of the palace, right in the middle of the city, that makes Central Park look like a playground. A member of the Sioux band, he travels back to his native home in the Nemadji State forest for tribal ceremonies and to reconnect with his Sioux brothers.
While he may be furry royalty, he has a down to earth personality. He just wants to be one of the boys, whether on the ice or in the barracks. He loves chowing down on wings and enjoys a good micro brew, as opposed to cheese and wine. He often leaves his security detail behind when going for a night out with his mates, and thus is completely approachable. He is a friendly, outgoing wolf who is always looking to make new friends.
Despite having an outgoing personality, he is still an alpha male, and a predator who gets horny. If he likes you, or just needs a rump for release, he will take yours whether you are willing or not. Females need not apply as his eyes are only for the males. He is the Anthro Kingdom's most eligible bachelor, and has no intentions of changing that, at least for now. There is nothing like a one night stand, breeding a fresh hole every night.